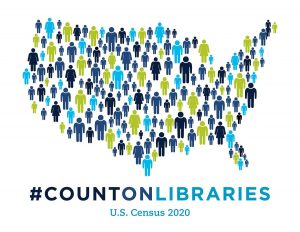 By Maura Deedy, Library Advisory Specialist at the MBLC
Last month, I hosted three 2020 Census 101 sessions around the Commonwealth. These sessions brought together librarians and other community partners together to receive information about the 2020 Census, and think about how to share it with their community.
On Monday February 24, 2020 I spent the morning with 19 librarians from Western Mass at the Massachusetts Library System Northampton office. We kicked off the meeting with introductions and sharing. In that spirit, here are some of the wonderful ideas Massachusetts libraries are doing to support a complete count in our communities:
Greenfield Public Library will have one dedicated laptop for self-response with trained staff available at all times to answer census questions. They'll host pop up events in the community at the senior center and Stone Soup Cafe.
Many libraries will have a designated computer, like Palmer Public Library and Paige Memorial Library (Hardwick). Libraries may consider removing authentication or modifying time limits to support census self-response and putting a short cut on each workstation.
A few libraries discussed their partnerships with the local senior center or council on aging. Heath Free Public Library and Dickinson Memorial Library (Northfield) are planning on outreach events at local senior centers. They will bring laptops and devices to help with self-response.
Tyler Memorial Library (Charlemont and Hawley) shared that they successfully advocated for additional funding to expand hours to encourage local residents to complete their census at the library using library tech or with their own devices. The disparities in access to broadband internet are more acute in Western Mass, where libraries or municipal buildings are the only places with Wi-Fi available.
Westfield Athenaeum is training their staff on how to answer basic census questions, and put a direct link to the census website on the desktop. They are working on a census focused story time for children with counting activities.
For many of the smaller libraries in Western Mass that may not have the staff to run programs, making passive displays is an excellent solution. Tilton Library (Deerfield) will have displays with information, handouts and an FAQ.
One of the activities in the training was a design thinking workshop about who our hard to count communities are and planning an activity to reach them. Look for that on our 2020 Census guide.
2020 Census Resources:
Census 2020 in Massachusetts: https://guides.mblc.state.ma.us/census
American Library Association: http://www.ala.org/advocacy/govinfo/census
Secretary of the Commonwealth: https://www.sec.state.ma.us/census2020/index.html