By Lauren Stara, Library Building Specialist
We are delighted to announce the completion of the waiting list from the 2016-2017 Grant Round for the Massachusetts Public Library Construction Program (MPLCP). In July of 2017, the Commissioners approved immediate funding for nine construction projects and placed 24 municipalities on a waiting list for funding as our annual capital budget allowed. Because of escalating construction costs, it's taken six years to make our way through the waiting list. The final three communities' provisional grants were awarded by the Commissioners at their monthly meeting on July 13.
Despite the effects of the pandemic, the proportion of declined grants is in line with MPLCP history. Between 25% and 30% of municipalities have declined MPLCP grants in rounds over the last 35 years.
2016-2017 Construction Grant Round – statistics to date:
33 projects approved for funding in 2017
13 projects completed
2 projects under construction
5 projects in final planning
2 projects awarded provisional grants with local funding approved & final planning underway
1 project awarded a provisional grant with local funding to be approved
10 grants declined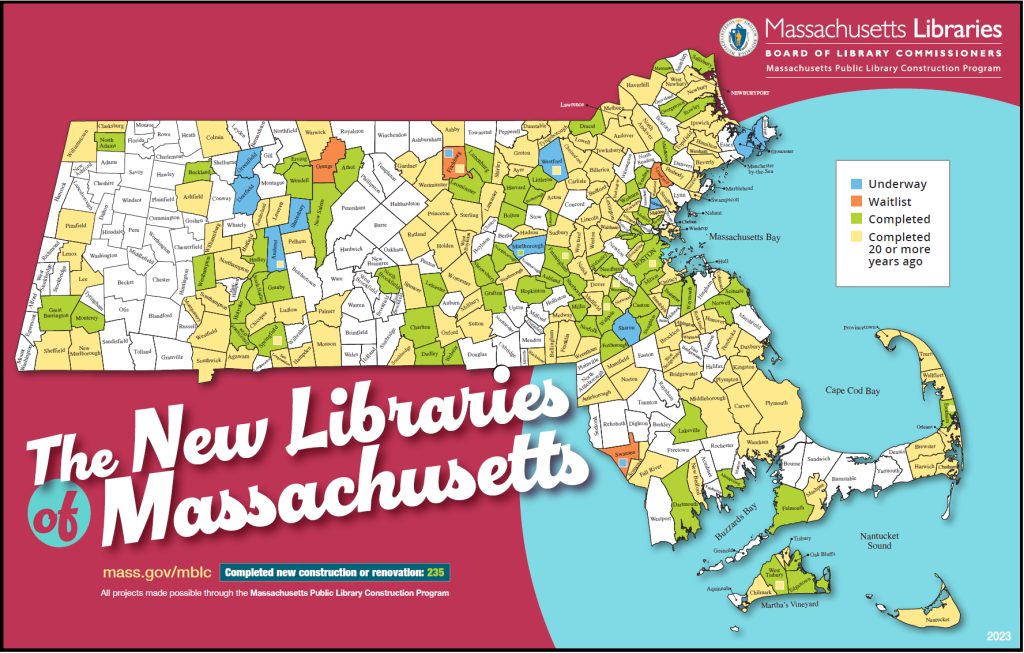 (2023 Map of New Libraries in MA and library construction in the past 20 years.)
For more details about the projects and municipalities funded, visit the MBLC's website page on Construction Programs and Support.
As you may know, we have already launched the the 2023-2024 grant round, which follows a new competitive, single-application process, combining the old Planning & Design grant round with the old Construction grant round. This streamlining eliminates approximately two years from the former project timeline, which we hope will result in more success in passing local funding and lower escalation for awarded projects. As a result of our Small Library Pilot Project, we also added a new grant category for small population towns of under 2,500. We received 27 Letters of Intent to apply for the new grant round, with applications due in May of 2024. We anticipate that the Commissioners will approve these grants in October of 2024, after the independent review process.For more information about the new grant round, visit the MBLC's Construction Programs and Support page.
If you have any questions about the MPLCP, please contact me at lauren.stara@mass.gov or Andrea Bono-Bunker at andrea.bunker@mass.gov.