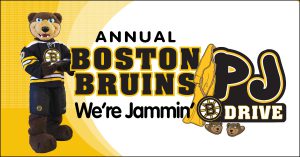 By MBLC Communications Director Celeste Bruno
As MBLC staff member Rachel Masse said throughout the PJ Drive, "These libraries are killing it!" No truer words were ever spoken!
Not only did libraries hit their goal of 10,000 PJs, libraries beat the goal for the entire drive (all organizations from the entire state)  of 12,000! Libraries collected 13,022 A new record of 138 registered for the drive–thank you to all the libraries that participated—even if your library collected 2 pairs, they make a huge difference to the kids who receive them.
Results of the major rivalries
Bourne vs. Norwood
Champion by 782 pairs: Bourne
Blackstone Valley Competition (Sutton, Whitinsville, Blackstone, Simon Fairfield, Millbury, Uxbridge, and Upton)                                    Champion by just 8 pairs!:  Whitinsville; Uxbridge Free Public Library will deliver breakfast to  Whitinsville
MBLC vs. MLS
Champion by 45 pairs: MLS; MBLC will deliver the PJ cup to MLS filled with chocolate.
Statewide Results (each will receive 5 tickets to a Bruins game)
#1 at 3,320 pairs of PJs is the  Jonathan Bourne Public Library
#2 at 2,538 pairs of PJs is the Morrill Memorial Library in Norwood
#3 at 742 pairs of PJs is Liam Fitzgerald (learn more about Liam)
Winners of the 12 Days of PJs Prizes (random raffle, given out during the drive)
Team-signed Bruins Hockey Stick:
Salisbury Public Library
Great Barrington Public Library
Beverly Public Library (Main)
Player-signed Jersey:
Billerica Public Library (Brad Marchand)
Westborough Public Library (Tuukka Rask)
Whitinsville Library in Northbridge (David Krecji)
Team-signed Jersey:
Silver Lake Regional High School
Berkshire Athenaeum in Pittsfield
Nashoba Regional High School
Signed photo:
Ventress Memorial in Marshfield (Patrice Bergeron)
Hazen Memorial Library in Shirley (Pasternak)
Beaman Memorial in West Boylston (Charlie McAvoy)