UPDATE 8/6/2019: The Commonwealth Catalog upgrade has been postponed. We will update this post accordingly once we know the new date of the upgrade.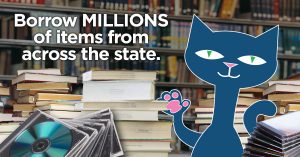 On August 9, 2019, beginning at 5pm, the Commonwealth Catalog will be taken down for a scheduled upgrade. The new version will bring improvements to help users find books and materials they want more easily and more efficiently. Though we hope the upgrade will take less than a day, it may take up to three. The Commonwealth Catalog will be unavailable to patrons and staff during this time.
What's Coming with the Upgrade?
Increased Security and Patron Privacy: The system will now use "tokens" instead of internet cookies, which means your activities and searches cannot be tracked by cookie trails.
More efficient searches: Searches will be broader, with related words included for title results, easier search narrowing, and the ability to select multiple different ways to refine your search results.
Faster results: Search results will load faster, and you will no longer see those flickering book jackets. You will be able to navigate around the page as the search continues to bring in live results from the various Massachusetts library systems.
Thank you for your patience while we work on making the Commonwealth Catalog an even greater resource for you and all Massachusetts residents to find the books and materials they want from anywhere in the state.
Please be prepared for the system to be down from 5pm on Friday August 9 until August 11, and check the MBLC Twitter account for updates.