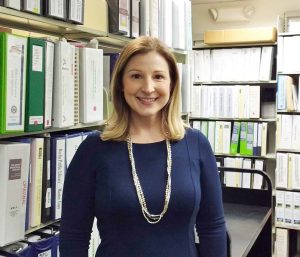 Andrea Bunker started at the MBLC on December 6 as our new Library Building Specialist. She will be working closely with Lauren Stara to administer the very successful Massachusetts Public Library Construction Program.
Andrea comes to us from Woburn Public Library, where she was Director since 2016. She's been spending most of her time on the WPL's addition and renovation, which is slated to reopen in February. Her experience will be especially helpful to libraries planning renovations to historic buildings – the Woburn Public Library is a National Historic Landmark and was the first library designed by HH Richardson, who became well known for public libraries. Prior to Woburn, she participated in a space planning project for the Newburyport Public Library where she served first as the Teen Librarian and then as Senior Librarian for Reference.
She holds an MLIS from the University of Rhode Island and a BA in English and Secondary Education from Northeastern University.
Andrea "looks forward to working with libraries throughout the Commonwealth in creating spaces that foster lifelong learning, assist residents in pursuing their goals, and strengthen connections within communities."
Please join us in welcoming Andrea to this crucial role!