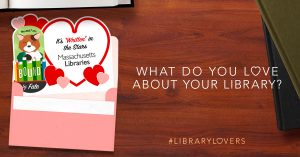 Valentines are a way we show how much we care. So why not use them as a way to show how much libraries are loved?  That's exactly what the MBLC has done.  The MBLC's 3rd annual Library Lovers campaign provides a way for residents to write valentines to their libraries. The MBLC collects the valentines and delivers them to legislators to help them better understand how much residents value libraries. Last year 4,000 valentines were delivered to Massachusetts legislators. Last year we delivered 4,000 valentines to 121 state legislators.
More important than the quantity of valentines is what residents say. It's truly heartfelt (pun intended.) It's not just that they love their helpful librarians (they do, in droves!) or that there's amazing books, programs and resources. It's that libraries play a role in residents' lives that no one or no other institution can.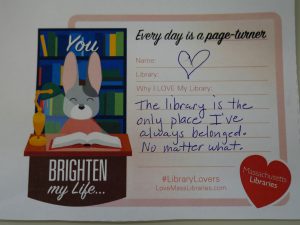 Have a look at just a few of the thousands we received. Please note: with the exception of Perkins Library at Perkins School for the Blind, all identifying information has been removed:
The Library has been an integral part of my life, for my entire life. I learned how to read in the Children's Room and wrote my college applications on the computers upstairs. It's hard not to love the Library's kind and caring staff, and the love of reading that they share with patrons. Recently, I was able to utilize the Library in a new fashion-- professional research.
The Director of the library helped me with research for a television show I was working on. Despite the fact that I now live in New York, there was no one I'd rather have spoken with; she, along with the rest of the Library staff, are incredibly well-informed, with excellent knowledge of the resources at their fingertips.  I love the Library and
My local library is very small but its benefit to the community is enormous. The library is very important to me. I work from home and am very isolated. Our town is rural, so I don't get to see a lot of people. The library has been so helpful in getting me out into my community, learning what is going on within it, meeting other residents, and creating a social civic life that I feel fully engaged in.
The library is the only place I've always belonged, no matter what.
My library supported me! I emailed them with an idea to start an environmental themed book club, and they helped me brainstorm which books we should choose for the program, took care of all the advertising and scheduling, and now I have this awesome book club to look forward to every month! I get to meet people in my community who care about the same things I do too. As a recent college graduate, finding ways to connect with my community after being away for 4 years is really important to me. I'm so happy I was able to continue learning new things with other like-minded people at my local library!
The Perkins Library has served me throughout my entire life. First as a student at Perkins, and then as a wife mother and homemaker. And the books that were made available to me, and all of the subjects pertaining to the occupation in my life then, were of invaluable help. 
Later on, my work in community theater benefited from the Library's wide selection of helpful material. But, when I became a caregiver to my daughter during her long battle against Glioblastoma brain cancer, the constant flow of books from my beloved library provided me with the information about the disease, escape, and sometimes humor which I needed to get through those impossible twelve years. 
Now, Perkins Library still walks beside me through sleepless nights and empty days, helping me get through my grief. Perkins Library has done what even well-meaning friends could not do and I shall be forever grateful. 
I love you Perkins Library!
Listening to recorded books I've received from the Perkins Talking Book Library it is a lifeline for me, it allows me to be connected to the world, to learn, to be entertained, to feel companionship. It gives meaning and hope for me. Thank you so much.
I love our local Library because it brings our community together. It allows us to meet each other in person and share experiences…
My library helps to make my retirement years meaningful.
Perkins Library became part of my life 18 years ago. It's right up there with the air I breathe.
My library opens up my world. It allows me to travel to new places, to meet new people, to cook new foods, and to hear new music all with one little card (and without spending a dime). I am forever grateful for the resources available and the friendly staff that make these experiences possible. This is TRUE LOVE!
Love the opportunities to meet with other teens and play Minecraft! What a great group. Thank you Library.
Dear Library, I loved you but I left you... I want you back! I miss you so much! Here in Maine there's no SAILS network, no New Release DVD's, no amazing Juvenile DVD's, no coupon sharing, no dropping off items at any network library location ...You don't know what you've got 'til it's gone!
Please support our libraries - they are an essential continuing education resource and invaluable to those who do not have access to a computer at home, especially those who are looking for work.
I love the staff and the access to such a wide variety of resources through the consortium. It's so good to see all these institutions working together. I've lived lots of places and no other state or commonwealth does this as well. I was even able to take grad classes in history at Harvard without spending a fortune on books because of interlibrary loans. Please keep them funded!
I love my library because it still can instill a love of reading in children.
Libraries are essential in providing access to digital media that many may not have access to otherwise. They play a critical role in leveling the "digital divide" playing field. Libraries are worthy of our support and worthy of tax payer support.
Our library is more than just a place to borrow materials...it is a hub of our community with a community room that is used every day of the year by over 150 different groups. It is a place where people come together to discuss common interests, meet up with friends, see/hear fabulous authors talk,etc.
…It is also an essential resource for those of us whose work relies on access to accurate and up-to-date information; I use my local library's services on a weekly basis, including interlibrary loan services, and would be hard-pressed to do my job as effectively without it.
For more information on the Library Lovers campaign, contact Celeste Bruno at the Massachusetts Board of Library Commissioners. To be a part of the campaign, access all materials on the MBLC Awarehouse.