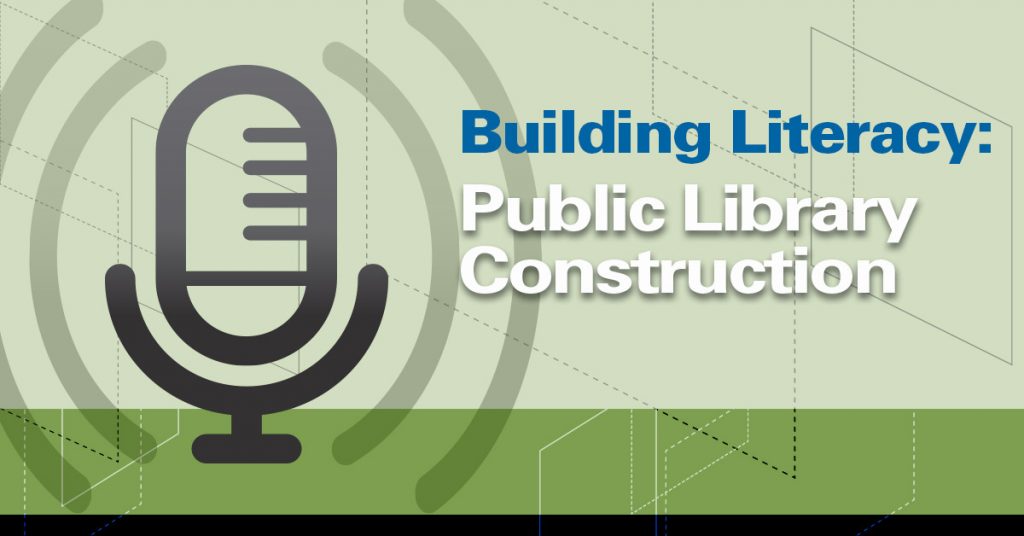 By Andrea Bunker, Library Building Specialist at the MBLC

Thank you for helping the Massachusetts Public Library Construction Program's (MPLCP) podcast "Building Literacy: Public Library Construction" reach close to 450 downloads!
In our second season, we look to our past- wisdom from former library building specialists, a primer on the history of the MPLCP, and our response to a 105-year-old speech about faults commonly found in Massachusetts libraries constructed during that era. A common thread weaves through all these episodes: although time ticks forward and technology and building materials evolve, human behavior, attitudes, and resilience remain consistent.
As we look to the future of library design and construction, the best way to develop a responsive plan is to truly understand all that has preceded and influenced our present. Patience Jackson and Rosemary Waltos provide us with a well-rounded perspective of the design challenges and construction errors they encountered during their years as library building consultants for the agency in "Words of Wisdom." They follow up this advice with an in-depth conversation about the origins and evolution of the MPLCP, which has weathered many economic storms in its 30-year existence, in "The History of the Massachusetts Public Library Construction Program."
While recording the first two episodes of season two, Patience called our attention to a speech from 1915 that exists in our files. The writer and speaker was Alice G. Chandler who, in addition to being a Trustee at the Lancaster Public Library, made advisory visits to libraries across the Commonwealth for the Free Public Library Commission, critiquing everything from their buildings to their cataloging systems. In her speech, which our colleague Liz Babbitt reads in its entirety at the end of the episode, "Some Things Never Change," Ms. Chandler relays the numerous concerns related to recently constructed library buildings throughout Massachusetts. As library building specialists, we were taken aback by how relevant and true her statements remain. Therefore, we discuss the similarities between our common comments today and those made 105 years ago. We don't cover every aspect of planning, design, and construction, but we hope you find some useful information for your own project.
The first few episodes of season three are forthcoming. We recently zoomed with several architects who design public libraries in the Commonwealth and beyond to learn more about pandemic-related changes they are contemplating and any lasting ramifications in their work on libraries. We have also begun collecting the building project stories of Directors and Trustees who have recently completed new or renovated and expanded libraries or lost their votes to secure approval. We plan to have topical episodes including issues like advocacy, fundraising, building committees, and much more, integrating these narratives from both successful and unsuccessful (for now!) projects.
As always, if you have any suggestions for future episode topics, please email me at andrea.bunker@mass.gov. We hope you learn as much from listening to each one of the episodes as we do creating them.