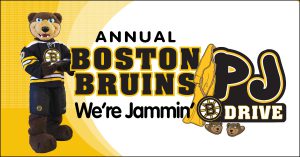 By Celeste Bruno, Communications Director at the MBLC
Collecting PJs to give to DCF kids is a good thing and libraries across the state have pitched in to be community collection sites. The Boston Bruins set a lofty goal for libraries—10,000 pairs in just over a month—and while we're still counting, here's some fun things you may not know about this year's PJ Drive:
A new record high of 146 libraries participated—that's up from 93, just three years ago!
ALL of Boston Public Library's branches participated.
Trustees at Norwood's Morrill Memorial Library matched the PJs donated by the public—very nice!
The Boston Symphony made a generous donation of 100 PJ's to Great Barrington's PJ Drive
First Lady Lauren Baker did the chicken dance at Chicopee's PJ and Pancake Dance Party!
The Bruins made a one-of-a kind Team Jersey for Jonathan Bourne Public Library—the entire team signed it!
This is the very first year that a library from every part of the state has participated: from the Berkshires to the Islands!
More than 50% of libraries reached or exceeded their goal in spite of four Nor'easters.
First Lady Lauren Baker gave a shout-out to libraries during her NESN interview during a Bruins game.
But please remember: No matter how many pairs of PJs you collected, each one makes a difference in the lives of the children who will wear them.
Thank you to all the libraries that help make this drive such a huge success.