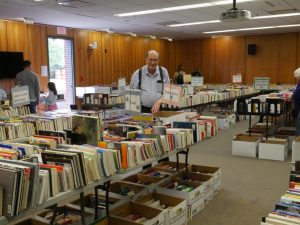 Massachusetts has a lot of impressive Friends of Libraries groups that put on great book sales throughout the year. However, what happens at the Needham Public Library's Book Sale is truly special, making it in my opinion, one of the greatest Friends of Library book sales on earth! In 2017, the Needham book sales made $91,000 to support library services, setting a new record.
Here are their three keys to success:
Have an Incredible Friends group
Keep a dedicated space
Have online sales that keep you going year-round.
The Friends are responsible for the sales' great reputation
Pictured below are just some of the Friends who make the sale a success. This group is very active and puts in a lot of hard work to ensure that everything runs smoothly. The Friends not only operate the weekend sale, they have also developed a process for the ongoing and online sales.  One of the most important roles they have is ensuring the quality and the variety of the books that are for sale. They're all previously owned books, but they're in "like new" condition.  This is important because after 10 years of running the sale, it has a growing reputation has a great place to go for a variety of books at an unbeatable price.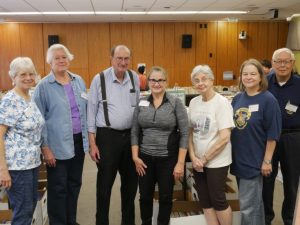 Space is the key
The Friends need the space for two reasons, the ongoing sale and for the group's ability to accept and store donations. The Friends ongoing book shop (pictured below) is given a high-visibility location next to the circulation desk. People shop year-round for great bargains and can pay for the books at the circulation desk.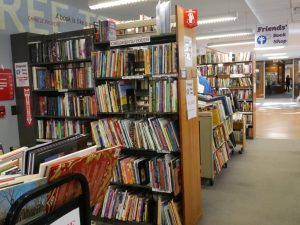 The Friends group also has a large storage area (pictured below) in the upper floor of the library. This space was designed intentionally for this purpose when Needham built its new library.  It gives the Friends the space they need to store donations, but it's also where they sort and store books for online sales through Amazon.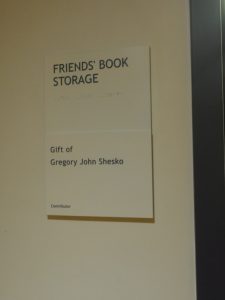 Amazon Keeps the Sale Going
Online sales are a big part of what makes the Needham Book Sale so successful. It means they can be selling books and raising money even when the library is closed. Books are listed on Amazon and can be accessed by shoppers who search the title. Although this is a large undertaking, all of the hard work pays off by expanding the network of potential book buyers worldwide.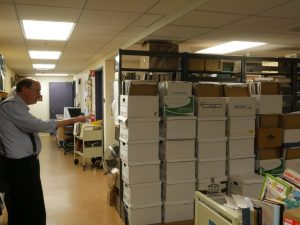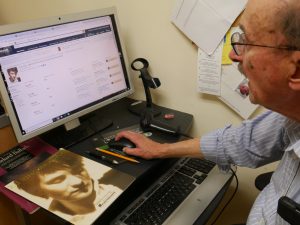 A lot of hard work and dedication goes into making the Needham Library book sale such a great success. There were lots of happy customers excited to read their newly discovered book purchases. The great part of any library book sale is you never know what you'll find, and that's what keeps people coming back.