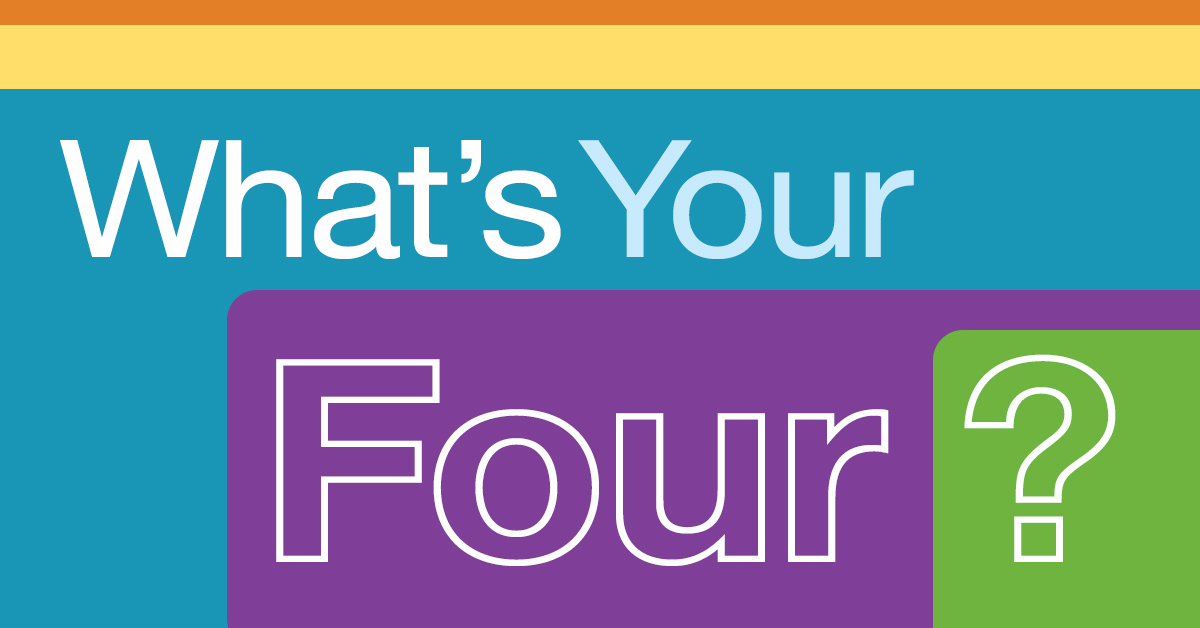 To me, one of the joys of summer is finding a good book and reading it on the beach. There is nothing quite like the warm air and bright sunshine to make reading extra enjoyable. What made it even better this year was helping to inspire children to read and avoid the summer slide while they were out of school, through our first ever "What's Your Four?" campaign.
Although I now enjoy reading during the summer as an adult, it was not always my favorite activity growing up, and I always needed a little encouraging. I was not alone. Many children and teens have a hard time reading over the summer, despite the academic benefits that it has been proven to give. In fact, teachers generally spend 4-6 weeks re-teaching what students forgot over the summer at the beginning of the school year[1]. It has also been shown that having reading role-model parents or a large book collection at home has a greater impact on kids' reading frequency than does household income[2], and that 92% of children and teens say they are more likely to finish a book that they picked out themselves2. Knowing all of this, we decided to do something this summer to try and get kids reading more.
We challenged all residents to choose four books to read over the summer months in a campaign we called "What's Your Four?" The idea was to encourage children, teens, and adults to read by having Massachusetts residents post four books that they chose to read to social media. It is four books because students who read four or more books over the summer achieve better on reading comprehension tests in the fall than their peers who read 1 or fewer books[3].
In total, we had over 450 posts that used the hashtag #WhatsYourFour, and from these posts, we've compiled a list of the over 550 books that have been recommended by participants. These books range from cookbooks, to children's stories, graphic novels, and biographies. We had responses from the Berkshires to Provincetown, and many local libraries and their staffs got involved to share what was on their reading lists.
The top four books that were recommended by participants on Facebook, Twitter, and Instagram were:
Modern Lovers by Emma Straub, about a group of college friends in New York City, who now have their own children going to college.
A Man Called Ove by Frederik Backman, about a grumpy old man who warms up after a young family moves in next door.
Harry Potter and the Cursed Child by J.K. Rowling, a sequel to the famous Harry Potter series, the book is the script to the play of the same name.
The Nest by Cynthia D'Aprix Sweeney, about a dysfunctional wealthy family and its children's inheritance.
Massachusetts Politicos also got involved and sent over their summer reads. Boston Mayor Marty Walsh, Attorney General Maura Healey, Treasurer Deb Goldberg, Auditor Suzanne Bump, State Representative Jim Dwyer, Secretary of Education Jim Peyser, and New Bedford Mayor Jonathan Mitchell all shared four books to encourage children, teens and adults from around the Commonwealth to read.
As the air starts to cool and school starts again, reading will shift for many from pleasure to academic. We hope that just how memories of the beach stave off the cold on a snowy January day, the memory of a good book will remind everyone of a great summertime, and will encourage them to continue reading throughout the whole year. You can see a full recap of the "What's Your Four" campaign here.
[1]Lasting Consequences of the Summer Learning Gap, Karl Alexander, Doris Entwistle, Linda Steffel Olson, April 2007.
[2]The Kids and Family Reading Report™ 4th edition conducted by Harrison Group and Scholastic, 2012.
[3]Summer Reading and the Ethnic Achievement Gap, Jimmy Kim, Journal of Education for Students Placed at Risk, 2004.