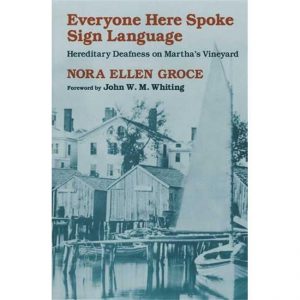 By Shelley Quezada, Consultant to the Underserved at the MBLC
The town of Chilmark on Martha's Vineyard was once known for its larger than average population of traditionally Deaf residents.  Decades ago, in the Squibnocket area of Chilmark perhaps as many as a quarter of the population was Deaf.   On this part of the island, almost one out of every 25 people was Deaf compared with the national average of one in 5728.   Today  members of Deaf community may choose to communicate through American Sign Language (ASL) but in past decades a Chilmark a variant known as Martha's Vineyard Sign Language (MVSL) was practiced by both Deaf and hearing members of the community alike.
The Chilmark Free Public Library maintains a fascinating record of this unique community in their historical archives. As it turns out, The American School for the Deaf (ASD) founded in Hartford CT in 1817 included many students from Martha's Vineyard who used MVSL as their primary form of communication.
Chronicled in Nora Ellen Groce's scholarly but accessible book Everyone Here Spoke Sign Language, up to a few decades ago Chilmark was something akin to a Deaf utopia where both Deaf and hearing members of the community freely used sign language as a primary communication vehicle.  People moving into Chilmark from the outside often ended up learning MVSL in order to fit in and indeed there was high acceptance of this communication tool. Most important in examining this fascinating story is the truth that being Deaf was never considered a handicap.
The Chilmark library's archives note they are, "lucky to have documents of their evocative memories, and to enjoy their stories of how children signed behind a schoolteacher's back; adults signed to one another during church sermons; farmers signed to their children across a wide field; and how fishermen signed to each other from their boats."
However, over a seventy-year span, members of the Deaf community began to attend off-island schools, got married and settled in other places so that eventually many of these Vineyard natives either left or passed away. This absorbing piece of cultural history can be further explored through newspaper and magazine articles, a recent YouTube video and the archives of the Chilmark Free Public Library's historical archives.
Suggested Resources:
Groce, Nora Ellen .Everyone Here Spoke Sign Language:  Hereditary Deafness on Martha's Vineyard. Harvard University Press, 1995.
Chilmark Free Public Library- Chilmark Deaf Historical Archive http://catalog.chilmarklibrary.org/pdf [dead link]
Vineyard  Poole-Nash, Joan (April 3, 2014). Martha's Vineyard Sign Language (MSVL) of the past (Public lecture/YouTube video). Fall River, Massachusetts: Bristol Community College. https://www.youtube.com/watch?v=o_euOAP8asw
http://archive.boston.com/news/local/articles/2004/06/06/vineyards_deaf_past_is_retold_in_drama_of_signs_and_speech
Kageleiry, Jamie.  "The Island That Spoke by Hand" . Yankee. Mar 99. Vol 63 p.48.