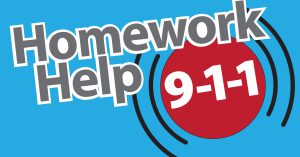 Whether you are in elementary school, middle school, high school, or college, you can always use a little help with your homework! Massachusetts libraries are here to help 24/7 with reliable information from our databases. Whether it's art, geography, history, or science that you need help with, we have a variety of resources that are available on a wide range of subjects available for you around the clock!
To get started, visit the MBLC's public portal at libraries.state.ma.us, select your grade level and find which resource will help you. The information is available for you free of charge and can be accessed at anytime and anywhere with a Massachusetts library card.
The best part of Homework 9-1-1 is that all of the information is reliable and sourced! You don't have to worry about whether what you are reading is true. This is information that you can't find through a simple Google search or on Wikipedia.
To learn even more about how to use the Massachusetts databases visit your local library and ask a librarian. They can show you the best ways to utilize the resources to get the information that you need.
You can find the Homework 9-1-1 resources and all of the available databases and electronic resources at libraries.state.ma.us.