By Norma Marcellino, Chair, Eastham Public Library Trustees
By early Saturday morning, March 3, 2018, around 80% of Eastham residents were without power-the Library included.  The new Library has been opened for about 15 months and has a generator which works in the community rooms. Our intrepid Director, Debra DeJonker-Berry arrived round 7:00 a.m. and had the heat in the area up and running by 8:00 a.m.  The Trustees held a meeting from 9:00 to 10:00 a.m. and the Library opened at 10:00.  Our residents started coming in and soon the large Meeting Room was set with tables and stations for everyone to charge their devices and use their computers.  A large coffee pot provided a hot beverage and computers were brought into this area so the Staff could sign out materials for the public. The Children's Room was unavailable but games and materials for them were moved into a Conference Room and Periodical area.
A musical group of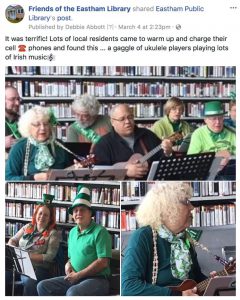 ukulele players, scheduled as part of a Saturday Music Series, entertained everyone in the afternoon in the reading room.  At the Library's closing time of 4:00 p.m. it became an official "Warming Station" for the Town and remained open until 10:00 p.m.  A Disaster officer for the Town, Steve Kleinberg, was the supervisor.  The Police Chief decided to reopen the Library on Sunday at 8:00 a.m. (we are not yet open on Sundays) and since the Library's power came back, library staff volunteered to come in to offer full Library services until 4:00 p.m.  The Police Chief sent a call to all the Town residents informing them of this timeline.
On Saturday, 499 people came into the Library, and there were still about 20 people there at 10:00 p.m. The Fire Department/Red Barn even sent pizzas over to those there on Saturday evening.  As someone without power who took full advantage of a place to charge my phone and warm up, I can attest to the amazing amount of good will that these offerings generated.  The atmosphere was electric and the Thank You's to the Staff and Volunteers were many and heartfelt.  There was a wonderful sense of pride in our Town.  The Director worked closely throughout with Town officials.  She and the Staff made many decisions and will go forward from this experience for future events.  The Eastham Public Library became the "Community Center" we all envisioned during the many years of planning for the building and the building process itself. We are very proud of our Library but never more proud than we were on March 3rd and never more grateful to the citizens of Eastham for their support.
Click here to see a Lower Cape TV video about Eastham Library becoming a warming shelter.