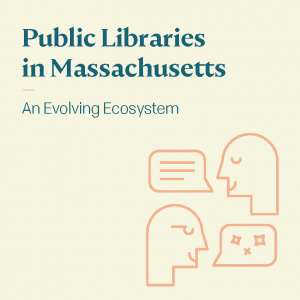 After over a year of hard work, we have completed our "Evolving Ecosystem" report with Watertown based design and planning firm Sasaki and help from Massachusetts library patrons and staff who filled out our statewide survey last summer.
The study was initiated and funded by the construction program, so that was the focus. We went in with a few goals:
To come up with a set of best practices for library design – a set of guidelines to help us understand the requirements of contemporary library buildings
To take the first steps in formulating a way for the Massachusetts Public Library Construction Program to help improve library facilities in the state's very small libraries
To understand where and how some libraries serve as de-facto resource locations for surrounding communities, and how that might affect building size requirements
After the Your Voice Your Library surveys last summer and a deep dive into the ARIS dataset, Sasaki produced a written report and an interactive website that's helping us understand how important the cooperative system we have in Massachusetts is, and start to look as how this information might help shape the ecosystem in the future. It's also become clear that this report is valuable to everyone in the MBLC and in libraries across the state – not just the construction program.
This is only the beginning of the process, though. We are now in the process of gathering responses and feedback from the library community, to help us determine what we do with this data, and we want to hear from you! As of this writing, there are still two more community meetings, scheduled on July 10 in Tewksbury and July 17 in Plymouth. We are also looking for volunteers for a statewide Ecosystem committee to guide us in where we go from here.
Take a look at the website at https://mblc.state.ma.us/ecosystem  and use the contact form there for your input, or you can email us at ecosystem@mblc.state.ma.us. We want your thoughts! You can learn more about the study here.