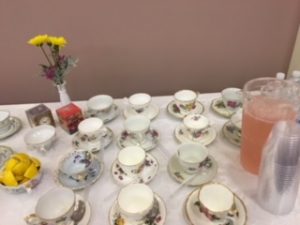 On a warm summer afternoon  in July, dozens of Plymouth Public Library patrons gathered to celebrate the institution of Afternoon Tea.  The theme tied in with the popular epistolary novel, The Guernsey Literary and Potato Peel Society that chronicles the occupation of the British channel island of Guernsey by Nazis during World War II.  It was chosen as a focus for the town's city wide reading program, Plymouth Reads, 2018
Guests were invited to sample an array of sweet and savory scones , tea cakes as well as  finger sandwiches enhanced by lemon curd and jam.  Fragrant pots of "Afternoon Revival" or Darjeeling tea were served on delicate Limoges china. Local tea expert and entrepreneur  Lisa Tavakoli  provided a short but fascinating overview of  the British consumption of tea and related how, in spite of hardship, tea remained an absolute necessity to the British people during the dark days of the war.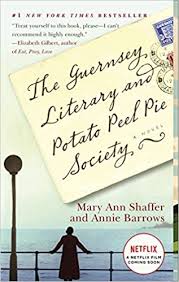 After enjoying  light refreshments, library outreach coordinator Thomas Cummiskey invited people to write  Plymouth themed postcards that  will be sent to  residents who use the local Guille- Allès Public Library in Guernsey.  Some older residents  shared memories of Plymouth during World War II and others discussed  similarities between two communities that have both a strong maritime tradition and serve as a popular tourist destination.
Participants were invited to continue the dialogue in the coming month when Netflix is slated to release a movie based on the book.
The library will hold a live skype from Guernsey and later screen the film followed by a discussion program.  The opportunity for everyone to come together and engage in a calm and enjoyable discussion over a cup of tea is a welcome reminder of the unique service that the Plymouth Public library provides to its community.