By Evan Knight, MBLC Preservation Specialist
On December 10, 2018, MBLC Library Advisory Specialist Maura Deedy and I visited the Worcester Public Library to discuss their current LSTA preservation grant. While there, we met with Genealogy and Local History Librarian Joy Hennig, Public Services Coordinator Pingshen Chen, and Public Services Supervisor of e-Resources and Periodicals Priya Subramanian.
They pursued the LSTA grant as an opportunity to rehouse a significant portion of books from one of their oldest and most unique collections, the books of WPL founder Dr. John Green. The approximately 8,000 books were given to the library in 1859 and quite literally were the first collections WPL ever had. It was a great visit where we talked about how the project was going, how they are working to make the collection more accessible, and some of the continuing challenges and opportunities involved in longer-term issues like preservation, conservation, and digitization. They are looking forward to opportunities for engaging their community with these collections, online and in person, while also incrementally enhancing their level of preservation. It was a pleasure to get to know them and work together with them on this great project!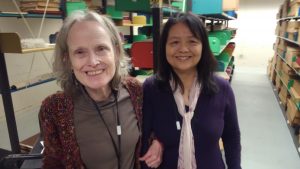 After working with WPL, we drove up the road to visit with Babette Gehnrich of the American Antiquarian Society, who graciously toured us around their building for the better part of the afternoon. For those who might not know, AAS was founded in 1812 and is a preeminent collection of early Americana (before 1876). Babette has been a leader in conservation and preservation for thirty years, so it was a treat to see some of her practices for housings and collections storage.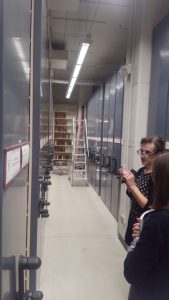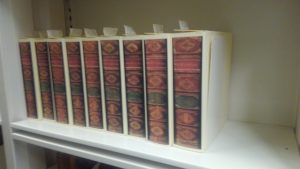 WPL and AAS are fantastic neighbors (they are less than 2 miles from each other!) and their collections are truly important components in the cultural heritage of Worcester.  Thanks to them and their great staff for offering MBLC an opportunity to learn more and help support some of their good works.