By Rob Favini, Head of Library Advisory and Development at the MBLC
The Open Meeting Law generates a lot of questions from trustees across the state. The most frequently asked is, "does this law apply to me?" The short answer is, yes! Public libraries in Massachusetts must adhere to open meeting laws. For corporation or association libraries that receiving ANY amount of municipal funding, following open meeting law is a basic best practice.
Below are links to resources available from Massachusetts Attorney General's office. We recommend that all trustees review these materials to learn how the law applies to posting meetings, taking meeting minutes, executive sessions, and the use of email and social media.
Open Meeting Law
Public bodies, which generally include public library trustee boards, are required to comply with the Open Meeting Law (MGL ch. 30A, sec. 18-25), as enforced by the state Attorney General's office. As noted in the AG's Open Meeting Law Guide, "The purpose of the Open Meeting Law is to ensure transparency in the deliberations on which public policy is based. Because the democratic process depends on the public having knowledge about the considerations underlying governmental action, the Open Meeting Law requires, with some exceptions, that meetings of public bodies be open to the public."
All library trustees should be familiar with the Open Meeting Law, which mandates meeting notices be posted prior to meetings of public boards, requires records or "minutes" of meetings to be kept, and delineates certain instances in which portions of meetings may be closed to the public. The Attorney General's office has some helpful resources on their website, including the extremely useful Open Meeting Law Guide. Questions concerning the Open Meeting Law should be directed to the local Town Clerk or the Attorney General's Division of Open Government (http://www.mass.gov/ago/government-resources/open-meeting-law).
Certain library boards, such as boards of some association libraries that are not municipal departments, may not be considered public bodies under the Open Meeting Law. If such a board is uncertain of whether it must comply with Open Meeting Law, the board should contact the Attorney General's office directly for a determination. Some association/corporation libraries may be required to follow Open Meeting Law under agreement with the municipality that they serve. It is strongly recommended that all library boards follow the tenets of the Open Meeting Law, even if they are not required to by law. A board that practices openness and transparency will be better able to maintain a good relationship with the municipality and seek support from its community
Information regarding Open Meeting Law can be found on page 41 of the Massachusetts Public Library Trustee Handbook.
Have a question relating to your board? Contact Maura Deedy (maura.deedy@mass.gov) or Rob Favini (robert.favini@state.ma.us)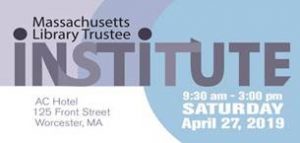 Please join us at the MBLC's Trustee Institute, April 27th! For information and registration: https://mblc.libcal.com/event/5158107?hs=a