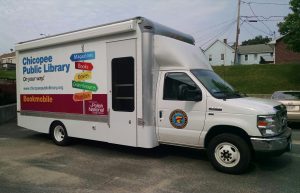 By Lyndsay Forbes, Project Manager and Grant Specialist at the MBLC
While we're always trying to entice people to come into the library, more and more libraries are recognizing and prioritizing getting out of the physical building and into the community. Outreach is such a critical part of what we librarians do, and it is often the best way to reach those who need our services the most. One way some libraries are reaching out to their communities is through their bookmobile.
Bookmobiles have existed in the U.S. since the turn of the century, though the original ones were horse drawn carriages. The first motorized bookmobiles launched in 1912. While they started as a way to get books to rural and far flung areas, they have adapted over the years and can be found in all types of communities engaging in a variety of services.
Over the years, the popularity of bookmobiles has risen and fallen. There was a decline during both World Wars and the Great Depression. The 1950s and 1960s saw a huge growth, some of which is likely due to the Library Services Act of 1956 as well as additional legislation. While their popularity has fluctuated over the years, you shouldn't think of them as nostalgic relics from years ago. Bookmobiles are still a part of modern library service in many communities. In fact, there are currently six bookmobiles operating in five public libraries in Massachusetts – Beverly, Chicopee, Natick, New Bedford, and Worcester (which has two).
In Chicopee, when you can't get to the library, there's a way for it to come to you! Since June 2015, the Chicopee Public Library's Bookmobile has been a significant part of library outreach. The schedule rotates every few months. Right now, the Bookmobile is using a two week rotation, where they make fifteen stops at eleven different sites. Locations include housing complexes, the Boys and Girls Club, and the Senior Center. Warmer months see the addition of parks and the farmers market among the stops.
Chicopee's Bookmobile truly is a library on wheels, offering the typical library services you'd expect in a brick and mortar building. On the Bookmobile, you can check out materials, request items for pick up, access online resources, use a WiFi hot spot, register for a library card, and get on the internet via iPads.
If you're a librarian thinking about getting your own bookmobile, you should know that it can be a large investment in time and money. So, while it's not something to enter into lightly, many libraries do find it is well worth the effort. And if you're looking to up your outreach game, it might just be the answer you're looking for!