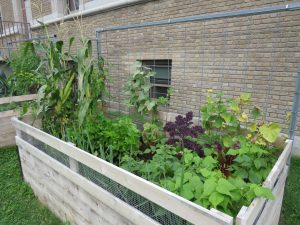 By Lyndsay Forbes, Project Manager and Grant Specialist at the MBLC
There has always been a long-standing interest in gardening and urban agriculture in Somerville but as the densest city in New England, space is at a premium. The City has helped a number of residents develop gardens through their Urban Agriculture ordinance, but many residents live in housing without any green space. While there are several community gardens, the waitlist can take around two years. Some residents have taken matters into their own hands with 'guerilla gardening', planting on any unused portion of public space without permission.
Seeing a need in their community, Somerville Public Library realized they could help. Using an LSTA grant from the MBLC, the Library developed a community gardening initiative that would be accessible, affordable, and hands-on for Somerville residents.
In early April, raised beds were installed by Green City Growers on the Library's lawn in order to provide residents with opportunities to learn and practice gardening. Following the installation, the first gardening workshop was held. This workshop was part of a larger Arbor Day and Urban Gardening Festival at the Library that included kid's gardening and environmental activities as well as tree planting with the Somerville Urban Forestry Division. The timing of the event also lined up with SustainaVille Week, Somerville's annual celebration of sustainability and climate action.
The Library had Green City Growers provide several more workshops throughout the season. Topics included when and what to plant as well as how to maintain, fertilize, and harvest successful crops. Working in an actual garden gave people valuable and practical experience with what was growing at that time of year as well as guidance about what to do as the season progressed.
Gardening wasn't just limited to the Main Library. While the West Branch is currently closed for renovation, Somerville's East Branch had two container gardening systems. Not only was the branch able to provide gardening opportunities at its own location, but this type of small space demonstrated what you can accomplish even if you didn't have your own outdoor space. The Library also encouraged gardening at home with their circulating gardening tool kits for youth.
Another key part of the project was showing people what to do with all those vegetables they grew. Knowing how to prepare and cook fresh produce can be a bit overwhelming if it's something you're not familiar with. The The Library worked with local caterer JJ Gonson, owner of Cuisine en Locale, who provided a series of cooking workshops focusing on how to prepare and preserve fresh, seasonal produce.
The response to the project has been overwhelmingly positive, both from the public and staff. With their new garden, Somerville Public Library has found a unique way to reach out to their community and grow more than just readers.