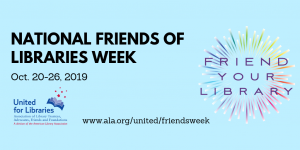 By Maura Deedy, Library Advisory Specialist at the MBLC
We are thrilled to kick off National Friends of Libraries Week. This is an opportunity for libraries to celebrate the role of the friend. Friends advocate, fundraise, champion, and promote the library in their communities.
In 2018, libraries reported over 59,000 library friends at 308 libraries. These are the people who understand and value the importance of the library in their community. Some friends groups have less than ten people, and others count up to 1000 members! What they have in common is that they are passionate about their local library.
These organizations are usually private 501c3 groups with their own board and officers. A friends group will engage in membership drives, book sales and other activities to help raise funds to supplement the municipal budget. Maybe you've been to a local book sale or perused a cart tucked near the circulation desk. Donated books sold by friends groups help provide direct financial support. Friends purchase museum passes, furniture, and sponsor summer reading programs, cook book clubs and more.
Friends can play an important role in advocating for the library to local and state officials. They are able to leverage their voice and knowledge of the library, and help tell the library story to ensure adequate funding is needed. Friends can also play a key role in any local bond or ballot votes, overrides and more. The Massachusetts Friends of Libraries is an association formed to provide leadership on issues of regional, state and national concern to libraries, including encouraging and assisting in the formation and continued growth of Friends of Libraries. They promote awareness on library issues and advocate for state funding to libraries through the Commonwealth. Visit https://libraries.state.ma.us/pages/friends-of-libraries-week-19 to learn more about Friends groups in Massachusetts.
National Friends of Libraries Week is coordinated by United for Libraries, a division of the American Library Association with approximately 4,000 personal and group members representing hundreds of thousands of library supporters. United for Libraries supports those who govern, promote, advocate, and fundraise for libraries, and brings together library trustees, advocates, friends, and foundations into a partnership that creates a powerful force for libraries in the 21st century.