Dear Massachusetts Library Staff,
We are reaching out from the Massachusetts Executive Office of Health and Human Services to ask for your help in an essential community outreach campaign that is happening this year. The campaign is focused on educating and preparing communities for MassHealth renewals.
What is MassHealth? – MassHealth is the state Medicaid agency. MassHealth provides health care coverage for 2.4 million people in Massachusetts including children, families, seniors, and people with disabilities. About 1 in 3 children are covered by MassHealth.
What are MassHealth Renewals? – A renewal is when the state "checks" a member's eligibility by making sure that the member still meets federal and state requirements for the program. Renewals began on April 1, 2023. MassHealth will renew all 2.4 million MassHealth members over the next 12 months.
Why is there an outreach campaign this year? – The 2023-2024 eligibility renewal process will generally be the first time that members are at risk of losing their coverage since February 2020, when the federal COVID-19 Public Health Emergency began. It is essential that members are aware and successfully complete their renewals so that they and their families continue to have health care coverage.
In preparation for this effort, MassHealth has collaborated with health care providers and community-based organizations across the Commonwealth to help educate and prepare members to successfully renew their coverage.
We are asking for Massachusetts Libraries to join our outreach efforts. Please support our effort by sharing the materials in MassHealth's Redeterminations Outreach Toolkit in your library spaces and social media channels.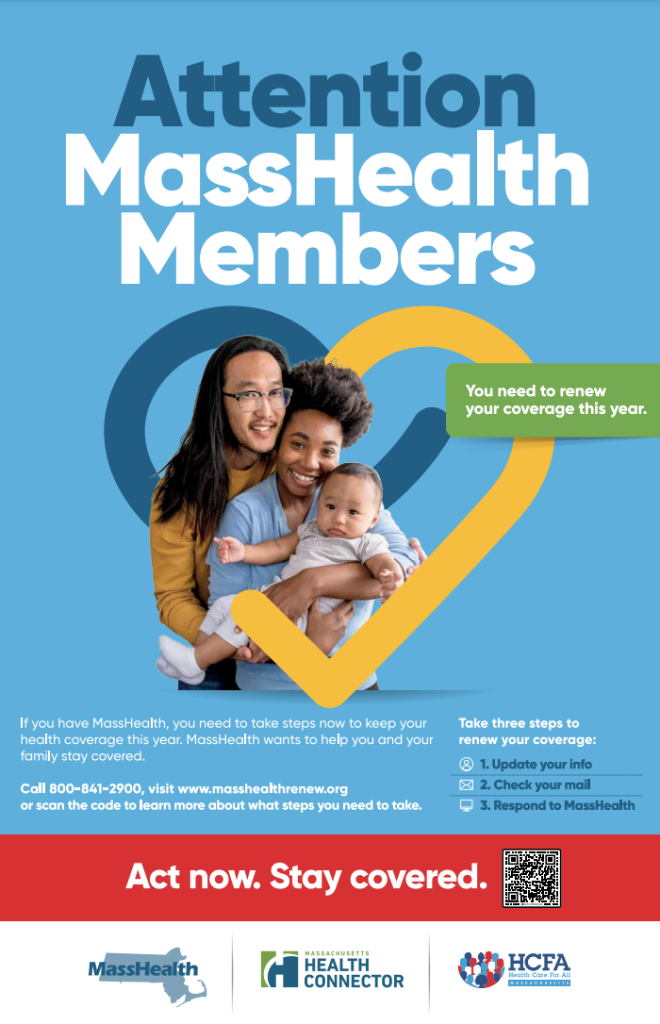 You can learn more about the upcoming redeterminations process at mass.gov/masshealthrenew.
Thank you for your partnership in supporting our members!
Sincerely,
MassHealth & the Massachusetts Executive Office of Health and Human Services
---

The Executive Office of Health and Human Services is the largest secretariat in state government and is comprised of 11 agencies and the MassHealth program. EOHHS seeks to promote the health, resilience, and independence of the nearly one in every three residents of the Commonwealth we serve.