Here in New England, September marks both the beginning of fall and the start of the children's book award season, recognizing some of the most excellent books for young readers published in the past 12 months. A perennial favorite with youth services librarians, authors, and publishers, the Boston Globe-Horn Book Awards Ceremony will take place on Friday, September 30 at Simmons College in Boston. The Boston Globe Horn Book Awards has been presented annually since 1967 and is considered among the most prestigious honors in the field of children's and young adult literature.
Selections are featured in three categories: Picture Book, Fiction and Poetry, and Nonfiction. Additionally, each category includes two honor books. Unlike many American Library Association awards, the winning titles may be written or illustrated by citizens of any country as long as they are published in the United States. Awards are chosen each year by an independent panel of three judges appointed by the editor of The Horn Book.
This year's award winners were announced by video on the Horn Book website in May. However, next Friday's ceremony is especially exciting because it features speeches by the award winners, followed by a book signing.
2016 Award & Honor Winners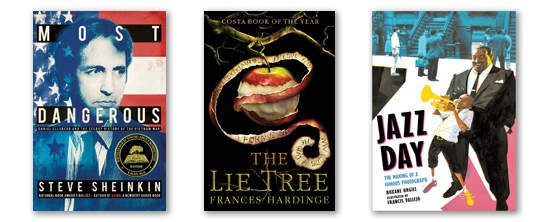 Nonfiction Award Winner
Most Dangerous: Daniel Ellsberg and the Secret History of the Vietnam War by Steve Sheinkin (Roaring Brook Press, an imprint of Macmillan)
Fiction Award Winner

The Lie Tree by Frances Hardinge (Amulet Books, an imprint of Abrams)
Picture Book Award Winner
Jazz Day: The Making of a Famous Photograph written by Roxane Orgill, illustrated by Francis Vallejo (Candlewick Press)

Nonfiction Honor Books
Symphony for the City of the Dead: Dmitri Shostakovich and the Siege of Leningrad by M. T. Anderson (Candlewick Press)
Voice of Freedom: Fannie Lou Hamer, Spirit of the Civil Rights Movement written by Carole Boston Weatherford, illustrated by Ekua Holmes (Candlewick Press)
Fiction Honor Books

The Hired Girl by Laura Amy Schlitz (Candlewick Press)
Goodbye Stranger by Rebecca Stead (Wendy Lamb Books, an imprint of Penguin Random House)
Picture Book Honor Books

Thunder Boy Jr. written by Sherman Alexie, illustrated by Yuyi Morales (Little, Brown Books for Young Readers)
One Day, the End: Short, Very Short, Shorter-than-Ever Stories written by Rebecca Kai Dotlich, illustrated by Fred Koehler (Boyds Mills Press)
Attendees at the Friday ceremony are in for a treat: with the exception of authors and illustrators Frances Hardinge, Sherman Alexie, and Yuyi Morales, all awardees will be on hand to give presentations to the audience. Many of these authors will also participate the following day at the 2016 Horn Book Colloquium "Out of the Box" that will also be held at Simmons College.