By Shelley Quezada, Consultant to the Underserved at the MBLC
On October 29, 2018 staff from seven libraries that received  FY19 LSTA grants for Mind in the Making: Supporting Play Spaces in Libraries  convened for training in the beautiful repurposed Fells Branch of the Wellesley Public Library.  In addition to Wellesley, the communities of Bedford, Bourne,  Rutland, Shirley, Waltham and Shrewsbury  will spend this year expanding opportunities for young children to participate in creative play activities in the library as well as to build, problem solve, think critically and even embrace failure as they become more confident and engaged learners.  Under leadership of library director Jamie Jurgensen who applied for a LSTA grant, the library interior features  wood replicas of Wellesley's  famous buildings as well as frescos of local flora and fauna that are both a delight to see and touch.
The Fells Branch, first opened in 1858 as a one-room schoolhouse, became a branch library in 1923 but recently has been used as a nursery school.  Now, thanks to the generosity of the Wellesley Free Library Foundation and the Wellesley Foundation, the newly painted and refurbished branch  opened  to the public on November 17.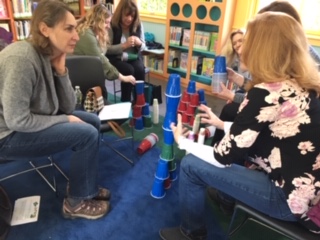 The LSTA training featured Alli Leake, Director of Education from the Discovery Museum in Acton who maintains a "Play Matters Blog" on the museum  website.  She invited librarians to engage in a play activity by cooperatively building structures with "found materials" which in this case were paper cups.    
Additional support was provided by Jessie Kravette of the Boston Children's Museum who shared some of the many  BCM  resources  that support the importance of play.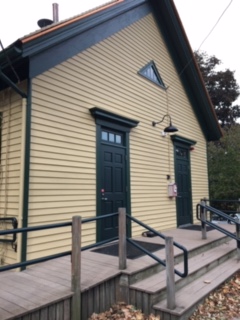 Participating librarians were excited to share some of the many  ideas they will be implementing over the course of the coming year as they create interactive play and flexible learning spaces in their own libraries.