By Rob Favini, Head of Library Advisory and Development at the MBLC
Library trustees have a unique and vital role in the oversight, stewardship and advocacy of public libraries in Massachusetts. Trustees gain their authority from legislative statute (MGL Chapter 78, Section 11) but the details of their day-to-day duties are based on local rules, bylaws and traditions. Because of this, the MBLC does not have legislatively mandated regulations for how trustees must carry out their duties. What we do have is the benefit of over 125 years of experience as a statewide agency overseeing libraries in Massachusetts. This experience has established a wealth of best practices that is available in the newly revised MBLC Trustee Handbook.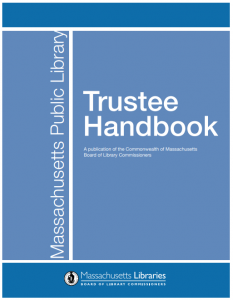 The handbook is a valuable resource to help trustees navigate the many procedural and policy questions that boards face on a daily basis.  The handbook is arranged by the following sections:  Becoming a Trustee,  Board Organization, Legal Responsibilities, Policy Making, Planning, Personnel, Budgeting and Financial Management, Library support: Fundraising, Foundations and Friends, Advocacy; Library Construction and Resources.
The handbook is available in PDF format on the MBLC's Trustee Page (https://mblc.state.ma.us/for/trustees.php). In addition to the handbook, the Trustee Page links to the MBLC Trustee Resource guide , MBLC resources and services, and to the Massachusetts Public Library Trustees Discussion List.
If you have any questions or feedback regarding the Trustee Handbook please let us know! Contact Rob Favini, Head of Library Advisory and Development (Robert.favini@state.ma.us) or Maura Deedy, Library Advisory Specialist (maura.deedy@state.ma.us).