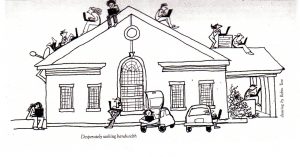 By Deb O'Brien, Director of the New Marlborough Town Library
What started as a conversation regarding connectivity (or the lack thereof) in rural communities quickly morphed into a chat about the connection of small towns and their libraries serving as safe havens during trying times.
A little background: most of the sparsely inhabited but area-wise vast town of New Marlborough has quite poor or simply no internet access.  With the COVID-19 crisis forcing the closing of schools and children being schooled remotely, this situation poses huge problems for families especially if they have more than one child needing to connect to the internet.  Our Board of Selectmen very recently acquired three new hot-spots, one being the town library.  Paul Kissman from MBLC approached me to find out how things were going with our town's reaction to our suddenly increased connectivity.  From there a conference call was set up between Paul and Celeste Bruno from the MBLC and me.
We discussed how the library parking lot is filled with cars lately, pretty much all of the time, with residents and others using our WiFi.  People are running extension cords from their vehicles to our electric outlets, some are setting up lawn chairs in the bed of their pickup trucks; even children are sitting in backseats of cars ostensibly trying to do their school work (and how many are playing games?).  The conversation came around to the importance, especially for children, to be able to sit at tables to do their work — how hard it is for our library staff (currently of one!) to sit back and not be able to help.  Here's where the conversation took a turn.
Internet connectivity is one topic, but what matters more is the connectivity of my library to the people of my town, the role it serves as its center and the glue that binds so many of us in this far-flung community.  Our library (and I think libraries in general) are thought of as safe havens no matter what world or local events swirl around us.  We are the community's security blanket.  Small rural libraries foster intimate relationships with their patrons, and it is mutual.  We share in their life celebrations,  we grieve their losses, and so many of us are bound together with them during emotional times.  During the unprecedented course of this pandemic it has been extremely difficult to sit back and watch patrons struggle, be it with children trying to do school work in the backseat of cars, folks wanting print materials or DVDs (no high speed Internet means no Netflix, no Amazon,  no streaming – period!), or just missing the comfort of coming in for a cup of tea or coffee and chatting.
I want to help my community!  Can we set up tables in the backyard (appropriately distanced and supervised) so the children could have a solid surface to write on?  Can we designate separate space in the library so families by appointment can use our rooms for work without coming in contact with each other?  The answers to all of these are no!
We have folks who walk by the library and knock on the window to wave to me and tell me how much they miss us; when I'm out walking for exercise, children and adults are shouting Hello and We miss you!  It is so frustrating to feel like we are failing our community when folks need us the most.
Just as I hung up from the conference call, the phone rang again.  It was a senior citizen who had just driven back from wintering in Florida.  The conversation went something like this:
Me: "Hello, New Marlborough Library."
Patron: "Oh Debbie, good, you're there!"
Me: "Sorry, but we are closed to the public. "
Patron: "That's okay, I just needed to know you were still there and now everything is right with my world."
Connectivity is so much more than computers, our phones and all the other devices whose screens consume us.  When the world is out of sync, libraries are and will remain the one constant that people can always rely upon for comfort and security.