By Evan Knight, Preservation Specialist at the MBLC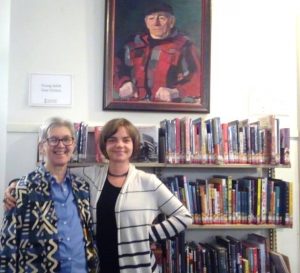 I had an inspiring visit to the Provincetown Public Library with Amy Raff, Director, and Nan Cinnater, Lead Librarian. If you visit the Library's website, you'll see they consider themselves "a cultural storytelling center," and I couldn't agree more. Some of the unique collections that help tell Provincetown's story include:
While in their climate-controlled storage area, I leafed through historic manuscript volumes from the early 1700s that seemed to be good potential candidates for LSTA-supported conservation treatment due to their acute condition issues, research value, and high artefactual value. When the name Peregrine White caught my eye, I was happy to learn from Amy and Nan something new, and thrilling: Peregrine White was born on the Mayflower in Provincetown Harbor in the winter of 1620 – the first English child born in the New World. What a story; what a piece of history.
We talked about other potential next steps to enhance the preservation of their unique collections, particularly the Heritage Museum's Archives, including the potential for taking a more thorough inventory, rehousing fragile objects, and reformatting A/V materials. LSTA grants can potentially help.
I'll finish with an inspiring quote I found outside their archives storage room engraved on a bronze sculpture: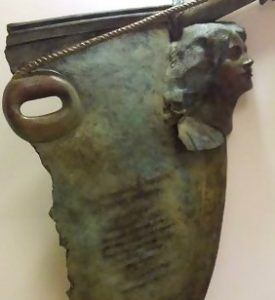 "…the process of preservation is never finished; it continues for the patient and the brave to address and resolve in each succeeding generation."
The Watch at Peaked Hill – Josephine C. Del Deo
Here here.