Massachusetts Libraries (libraries.state.ma.us), the online portal for statewide library resources & services first launched in 2007, has been completely redesigned. We wanted to keep it simple and user-friendly while also offering personalized access to catalogs and collections.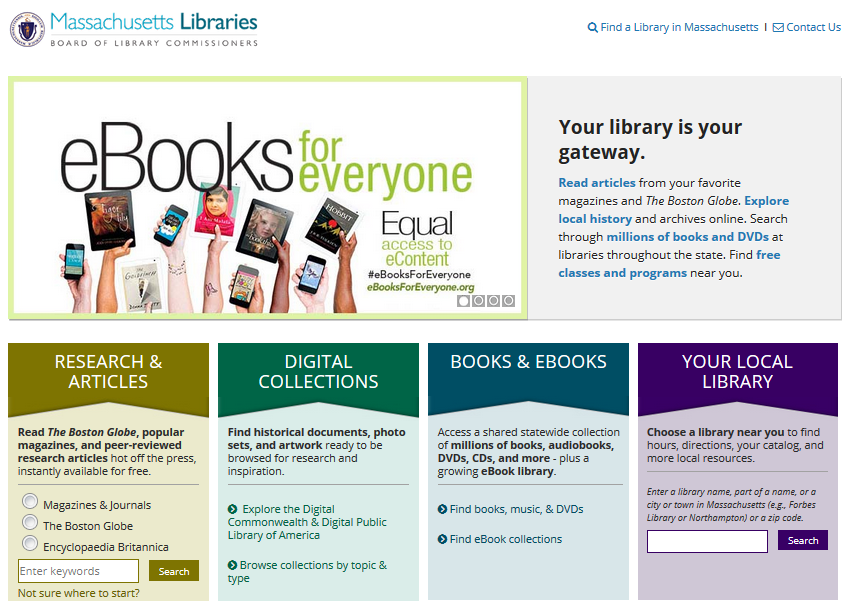 Visitors are first prompted to find their local library by entering a zip code, town, or library name. The new site is then customized with access to their home network's catalog and the Commonwealth Catalog, making it easy to search both locally and throughout the state. It also helps visitors find ebook collections and provides immediate access to online articles. And there's a new A-Z title list of all research journals, magazines, and newspapers available through our statewide subscription.
In the Your Local Library section, visitors can find out about classes, events, and workshops – such as summer reading and early learning programs, high school equivalency exam prep, and English learning groups – at nearby libraries and literacy centers. The Digital Collections page highlights digital libraries and special online collections, great resources for teachers and students looking to explore history in Massachusetts and beyond.
We'll be testing the site with users and consistently making adjustments throughout the coming months, so we welcome any and all feedback on the new site! Send your thoughts and comments to answers@mblc.state.ma.us.