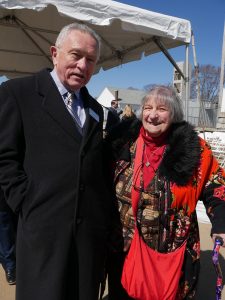 As we celebrate National Friends of Libraries Week, we've reach out to one of the best friends libraries have, Vicki Kauffman. She is a previous MBLC Commissioner and active with the Massachusetts Friends of Libraries and Friends of Weymouth Public Libraries. We asked her to share her thoughts on what it means to be a library friend. Thank you, Vicki!

As with virtually every Friend, I've been going to Libraries since I first learned to walk.  As someone who's had to move a number of times, the first thing I do in every new community is go to the Library and join the Friends, to support the Library and become involved with its activities.  I was fortunate enough to have been a Commissioner on the Mass Board of Library Commissioners; because I voiced my support of Friends activities, I was asked to join MFOL.  So naturally, when I moved to Weymouth, my first move was to join the Weymouth Friends.  
Friends organizations everywhere have supported Libraries financially – at times crucially making up for financial shortfalls in library budgets, or for urgently needed renovations and materials.  Friends are a base of both vocal and practical support, responsible not only for underwriting programs and activities, but energizing the community when support at crucial times is needed for votes from assuring municipal financial support to a new building.  Being a Friend is its own reward – not only for the satisfaction of seeing the Library benefit from our work, but for discovering a wonderful circle of new friends, because Library folks are great!
Want to meet more friends? Come to the Massachusetts Friends of Libraries Annual Meeting and program on Saturday October 26, 2019 at South Hadley Public Library. Sign up today: