More than ever before, libraries manage a myriad of high-stakes issues including book challenges, construction projects, funding issues, negative social media posts, and on-site protests. The MBLC's crisis communication resources and information help prepare you so that you can successfully navigate a crisis.
Intellectual Freedom Challenges: Messaging, Fact Sheets, and Sample Statements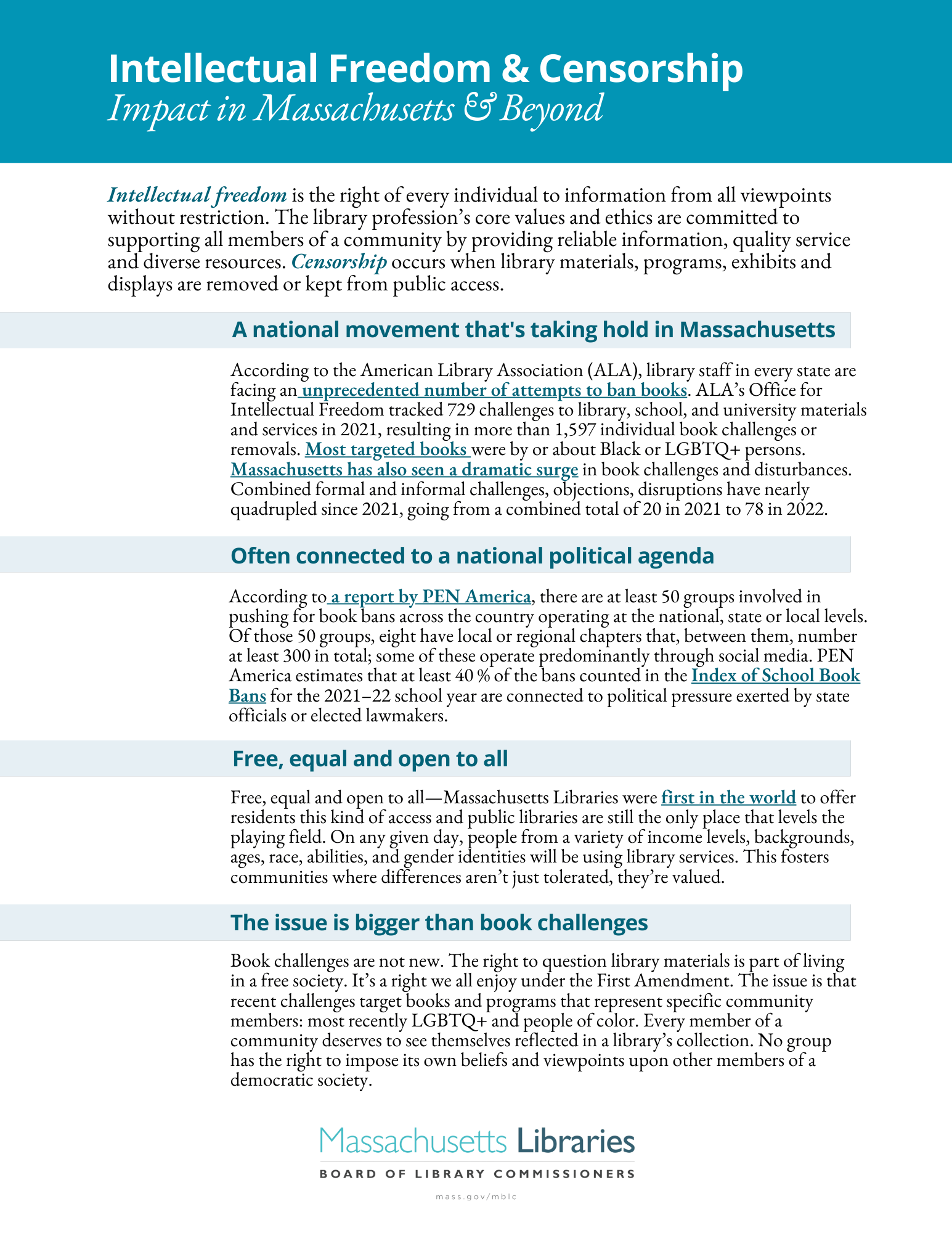 ---
Spokesperson Examples
The following are excellent examples of a spokesperson staying on point and avoiding losing control of the conversation:
Steps to Consider Before, During, and After a Crisis
Before:
Develop a crisis communication plan/policy which includes a team you'll rely on.

 

Identify spokesperson/spokespeople on staff or trustees, etc. who will speak on behalf of and represent library.
Identify possible areas of vulnerability, some may include: funding, book challenges, violence in the library, construction project.
Develop relevant messaging/anticipate potential questions with your team and review with stakeholders.
Consider how you will handle social media: who will be responsible, how will it be used to get messaging out (or not used), and how negative comments will be handled. Also consider how staff manage their personal social media accounts, and if staff know how to protect their online presence against harassment such as doxxing. 
Update or create policies (including collection development policy and meeting room policy).
Train staff (with library policies, consider posting policies or providing the info desk with copies of policy and library admin contact to hand out when needed).
Establish relationships with your local and state officials.
Identify patrons who may speak on behalf of the library.
Build relationships with local media.
During:
Release your message /consider different ways to get your message out.
Monitor who is saying what and where they're saying it.
Prepare your spokesperson.
Check in with staff and assess their needs.
Adapt your message if necessary.
Keep stakeholders and officials up to date.
If there is a concern for safety, notify staff security and local law enforcement (specific to First Amendment Audits, or alarming messages on social media).
After:
Analyze/debrief: Go over your crisis plan and the results you were able to achieve and what did't go well.
Discuss the things you wish you had during the crisis: anything from materials to a system for gathering info, to more people to speak on behalf of the library.
Revise your plan and messaging.
Check in with staff and assess their needs.